Coaster Ride with pattern

Coaster Ride


Everyday Bag Kit w/Pattern

Everyday Bag Kit w/Pattern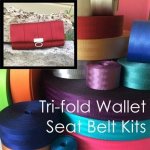 Seatbelt Trifold Wallet Kit

This kit contains all the webbing you need to make a sleek and practical Tri-Fold Wallet. Seat belt webbing has a lovely sheen and is durable and stain resistant. The wallet has room for all your necessities with a zipped coin pocket bill pocket 7 slot


Seatbelt Pouch Trio Kit

Seatbelt Pouch Trio Kit


Seatbelt Market Bag Kit

includes webbing and 2? ring. Does not include interfacing lining fabric bell tassel hardware or pattern.


Rosewood Kit

Three Sisters have done it again with this beautiful collection called Rosewood and this great BOM that is all in one. It is a 7 month BOM call Kate packaged as a whole kit you can make at your own speed. You will love all the beautiful sampler blocks t


Diva Wallet Kit

Fat Quarter and scrap Friendly wallet with 6 card pockets 2 open pockets and a zippered pocket!


Quilted Greeting Cards

Pack includes 4 Cards with Envelopes. Full size applique templates. Fun to make and fun to give.


Seatbelt Market Bag Class Kit

This kit includes everything needed for the Cozy Nest Seat Belt Market Bag class.


Pillow Case Kit

Pillow Case Kit ready cut and ready to Sew. Modern Bloom (Orange and Large Bloom Print); Lucky Star (Light Star Background with Dark Blue Star)


Blocks for All Seasons - December Kit

Patrick Lose - Designer Mini Quilt